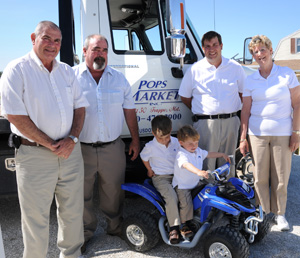 It all began in the spring of 1978 when Laurann Schwaninger and her brother-in-law Tim started a small, family produce business which soon became known as Pop's Market. "Pop's" was named after Tim's father who was retired at the time and wore prosthetic hooks after he lost the use of his hands in a corn picker accident many years before. "Pop" helped our family business get started by scouring Caroline and Talbot County for the best produce and he was also a great salesman and entertainer at the produce stand.
While he bought produce from surrounding areas, Laurann and Tim were busily sneaking additional produce from "Aunt Mattie's" garden. Aunt Mattie Simpson lived with Melvin and Tim's parents and had a huge garden full of all kinds of produce. The fact was that Aunt Mattie's garden was so large, she just couldn't use all her vegetables, anyway. So we took what we could over to the produce stand and sold just about everything she could spare from her delicious pole limas, to the fresh tomatoes, squash, cucumbers, radishes and whatever else she could dig up.
Eventually Tim's brother Melvin left his other full time job and the family started growing its own "truck crops" (all the produce that is sold at a farm market). We all operated the business strictly as a produce stand for the first couple of years; then we started selling local crabs.
Each year we grew a little larger. Each year added something new and the family business continued to grow and prosper. Truth is that at one point, Pop's Market almost outgrew the family. So we all got together and decided that maybe bigger was not always better.
After that, we downsized the business so that the family could handle most everything by themselves along with the continued assistance of some of our highly valued part time help.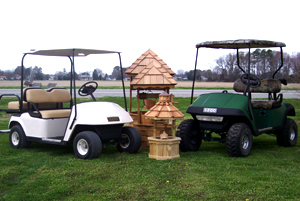 PASSING THE BATON
As the years have gone by, new members of the family have been introduced to the business. In fact, John III (3rd generation) was pretty much raised in the Schwaninger family business. Growing up, he has very fond memories of selling crabs, produce, working the truck crop fields early in the morning, and feeding the left over produce to the pigs that were being raised on the farm (especially Arnold). John has been learning the business inside out as it has branched out & expanded its line of products and services to become the current day Pop's Market.
In recent years, John has developed his own niche here at the store by offering a complete repair and restoration service for antique tractors and other farm machinery.
Working with dozens of sources he has found from all over the world for acquiring old and unique machine parts along with a very special talent for custom welding and fabrication, John is able to convert a rusted out old piece of farming history into a thing of modern beauty.
Before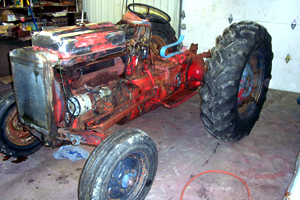 After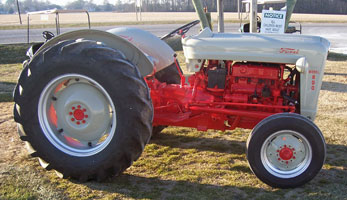 John now has 3 sons. Johnny & Daniel are now the 4th generation of Schwaningers learning the family business while little Nathan still gets to play on the swing sets. The older boys are starting with the art of learning customer service. Don't be surprised if when you stop by, you have a pint sized young Schwaninger ask to help you! The older Schwaningers look forward to the day when the younger generation is able to continue following in the footpaths of their family. Pop's Market remains the quaint "Mom and Pop" business that seems to be a dying breed in this era.
A REPUTATION BUILT ON GREAT CUSTOMER SERVICE

Times have changed since we first opened our doors, and we no longer sell fresh produce or crabs at our roadside store on Route 50 between Cambridge & Easton, MD. But Pop's Market has still continued to grow over the past several decades to become a uniquely diversified and local family operated business that now spans 4 generations. We were the first in the area to specialize in quality Amish products, storage buildings, animal shelters & dog houses, gazebos, cabanas and sunrooms, lawn furniture & accessories, martin houses, birdhouses & feeders, and household furniture. Today, we also sell and service everything from farm equipment, used tractors, lawn equipment and implements to utility trailers of all sizes and even golf carts.
We built a reputation we can be proud of through the years by doing everything we could to help every one who stopped in to visit our store leave as a completely satisfied customer. It is a tradition we plan to continue for generations to come.
The Schwaninger Family
Please feel free to contact any of us for any reason. We all look forward to hearing from you.
| | |
| --- | --- |
| Melvin, John & Tim..... | Sales |
| Laurann..... | Bookkeeping |
| John & Tim..... | Repairs and Parts |
| John..... | Jack-of-all-trades, Tractor Restoration, Welding & Fabrication |
The children are now "in training" and still looking for their own niche!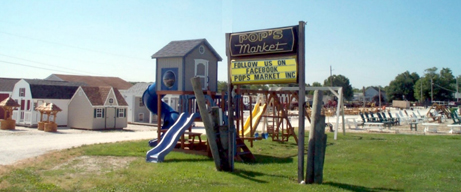 Financing is Available! We also accept VISA, MASTERCARD & AMERICAN EXPRESS.